CNC cutter in an optimal price-performance ratio - the cut expert ecocam 2
The CNC cutter, cut expert ecocam 2, in an optimal  price-performance ratio, and on request also with attractive leasing conditions.
Due to its design in simple standard sizes, the cut expert ecocam 2 can be delivered at short notice. The CNC-cutter can be expanded in just a few steps. The CNC cutter is thus tailored to process optimisation in the processing industry. Cut faster and increase your productivity.
Technical textiles, leather, composites, foams, films, fibreboard, cardboard, corrugated board and many other flat, flexible, non-metallic materials can also be cut accurately even in multiple layers.
Is your material not listed? Are you not sure whether the cut expert ecocam 2 meets your requirements? Request an obligation-free cutting test.
The right tool for efficient use of your cut expert ecocam 2 in cutting, such as
the oscillating tool (ideal for cutting softer, medium-density materials such as corrugated cardboard, leather and composites)
the rotating blade (suitable for hard glass fibre up to extremely tough aramid fibres)
or the universal blade
we think in cutting solutions.
Cutting flexible material with the CNC cutter von expert
cut expert ecocam 2
As a genuine all-round talent, the cut expert ecocam 2 is equipped with the appropriate tool for every material and every step of production and therefore enables a high level of flexibility. Whether single or multi-layer – thanks to the variable calibration of cutting parameters materials with various thicknesses can be cut fast and precisely.
Due to its solid construction, the high-quality multi-functional cutting head with 1 tool holders for up to 3 interchangeable tools is not only highly durable - it also scores with its easily exchangeable cutting tools (plug & play concept) and its short set-up times.
Vacuum holds the material in place and the vacuum zones are activated by clicking.
Workspace Standard sizes: 1500 x 1000 mm, 1500 x 1600 mm | 2500 x 1600 mm, 2500 x 2100 mm, 2500 x 2700 mm, 2500 x 3200 mm | 3500 x 1600 mm, 3500 x 2100 mm, 3500 x 2700 mm, 3500 x 3200 mm | 4500 x 1600 mm | 5500 x 1600 mm, 5500 x 2100 mm, 5500 x 3200 mm | 7500 x 1600 mm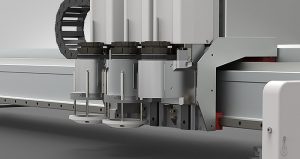 Technical strengths
High cutting accuracy
High positioning speed of up to 90 m/min
Easily exchangeable cutting tools
Cuts single or multi-layer materials
Suitable for rolled goods and for flat sheets of material
User-friendly clearing of cut parts from conveyor table
Product features
Tools tangentially guided:
oscillation blade, driven rotating blade with various diameters, straight knife, milling unit
Equipped with static table or conveyor table
NC-controlled conveyor belt
Multi-functional tool head for holding up to 3 interchangeable tools
High-performance vacuum unit for fixing the material
Product details
Highly dynamic servo drives for a positioning
speed of up to 90 m/min
Repeatability +/- 0.25 mm
1 cutting bridge with 1 tool head
Vacuum unit
Cutting table with conveyor belt or static table; accessible on 3 sides
Find out if CNC cutting technology is right for you – send us your test material!